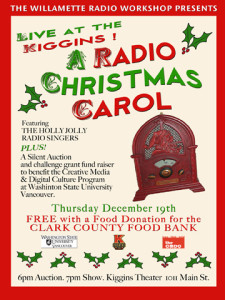 The Willamette Radio Workshop is proud to present our Radio Christmas Carol program as a Food drive for the Clark County Food Bank and a Silent Auction and challenge grant fund raiser to benefit the Creative Media & Digital Culture Program at Washington State University Vancouver. The program is free with a non-perishable food donation.
Thursday December 19th at 7pm The Willamette Radio Workshop presents Charles Dickens "A Christmas Carol", adapted by Cynthia McGean from the source and the Campbell Playhouse versions. The classic Christmas story of Scrooge and Tiny Tim finds it's natural home in the radio/audio theater medium, the theater of the mind. A ghost story told to remind mankind of the perils of greed and isolation at a time of the year when our community needs more help than ever.
The show will be performed at the beautifully restored Kiggins Theater in downtown Vancouver, Washington. This is a big space with plenty of room for throngs. Food and beverages will be available. Beer and wine are served as well as a few seasonal specials.
Our goal for the night is two fold, to collect food for the Clark County Food Bank and prior to the show, beginning at 6:00 PM, we plan a silent auction and challenge grant fund raiser to benefit the Creative Media & Digital Culture Program at Washington State University Vancouver.  After all, Christmas is a time when want is keenly felt and abundance rejoices, as Mr. Dickens reminds us. Doors open at 6:00 p.m. for the silent auction and refreshments.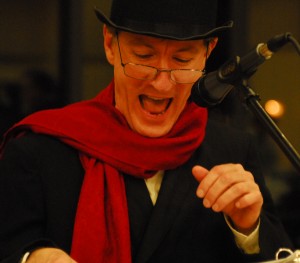 The cast includes Greg Alexander, Cynthia McGean, Chris Porter, Alyson Osborn, Renee King, Alan King and Sam A. Mowry.
Live music and carols provided by the Holly Jolly Radio Singers under the direction of Bennett Bailey.
Live sound and recording by Phillip Bursch.
In the tradition of the golden age of radio, live Foley is performed by by David Ian and Dino de Aelfweald. This show is one hour in length and appropriate for all ages.
The Creative Media and Digital Culture Program (CMDC), home of the Bachelor of Arts in Digital Technology and Culture (DTC), integrates critical thinking, creativity, and computing skills with course work in the Arts, Humanities, Social Sciences, MIS, and Computer Science to offer a broad-based, interdisciplinary degree that prepares students for a culturally-diverse, technologically-complex 21st century.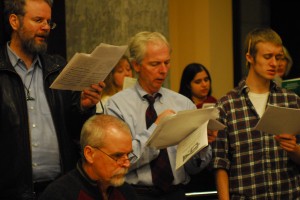 The award-winning Willamette Radio Workshop wants to help preserve the history of radio theater and to this end its work includes recreations or re-imaginings of classic radio programs like the Campbell Playhouse Christmas Carol with Orson Welles and Lionel Barrymore. And we take great pleasure in reaching out to serve our community and celebrate life through the Arts, no matter how dark the times or long the days. We hope you can join us. Merry Christmas and Happy Holidays to you all.