Best Halloween Prank Ever!
75th Anniversary of War of the Worlds
The story is now legendary. A fictional radio broadcast of a Martian invasion panics the nation.
Relive the excitement, without the panic, by attending a recreation of that broadcast by Willamette Radio Workshop, featuring six actors, live foley and recorded sound effects in a production faithful to the spirit of "live radio."
All shows are free.
Beer, wine and food available at both venues.
Wednesday, October 30th @ 7:00pm
Kiggins Theater
1011 Main Street / Vancouver, WA 98660
http://kigginstheatre.net/
6:30pm – Doors Open
6:30pm – Costume Contest
Free parking after 6pm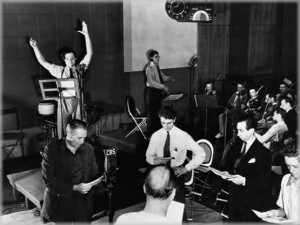 Thursday, October 31st @ 4:30pm and 6:00pm
McMenamins Kennedy School
5736 NE 33rd Ave Portland, Oregon 97211
http://www.mcmenamins.com/events/116311-Halloween-at-Kennedy-School
Enjoy this vibrant entertainment medium and the opportunity to look back at the best Halloween prank ever pulled on the American Public.
If you haven't seen live radio, you ain't heard nothing yet.
Willamette Radio Workshop  on Facebook!-
https://www.facebook.com/groups/107101542216/
Cast and Crew
Chris Porter
Todd Tolces
James Dineen
Bruce Miles
Erik James
Sam A. Mowry
Foley
David Ian
Dino de AElfweald
Jadea Hales
Live Sound
Marc Rose
Neil Blake
Phillip Bursch
Our THANKS to:
John Barber
Dan Wyatt
Amalia Vacca
The Creative Media & Digital Culture Program at Washington State University Vancouver as part of the Martians with Moustaches exhibition.
Kiggins Theater
McMenamins Kennedy School
Tapestry Theatre
Judy Straalsund
James Dineen and Portland Media Works
Galen Huckins and Filmusik
Martin John Gallagher
Amy Zing Gray