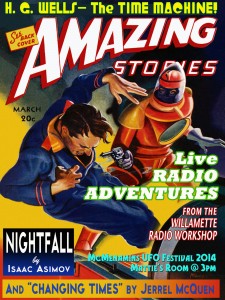 Well, it's that time of year again. The parades, the floats, the little alien pets costume contest and of course the Willamette Radio Workshop takes to the stage at the Hotel Oregon in beautiful downtown McMinnville to create Live Radio magic for the masses. This year we have a great program for the 2014 UFO Festival, Nightfall by Isaac Asimov, H.G. Wells The Time Machine and a special surprise from Jerrel McQuen, Changing Times. Join us as we travel through time, are cast from a world of eternal light into a world of abject darkness and finally we make contact with the rest of the galaxy and true to form, it's not what we think it is.
The show starts at 3pm (a new time for all our regulars) and runs a tad over an hour. The cast of audionauts  for this years festival includes: Bruce Miles, David Ian, Dino de AElfweald, and 2 new members of the Workshop Zoe Nelson and Gregory Wilson.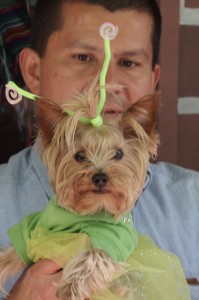 Sound Design and Music by Marc Rose, Live Foley by David Ian, Dino de AElfweald and Ms Lu and live sound from the irrepressible Phillip Bursch. It's true, I keep trying but cannot repress him.
You can click on the poster above for a better look.
We will have our Merchandise Table helmed by the dynamic Duo of all things radio and shiny Jamie Lawson and Joe Medina. The purchase of our CD's is a great way to support the mission of the Willamette Radio Workshop and our cohorts in radiodynamism, Dry Smoke and Whispers and Ollin Productions.
As usual, the whole thing is under what we laughingly refer to as "The supervision" of Sam A. Mowry. He and we remain obediently yours.