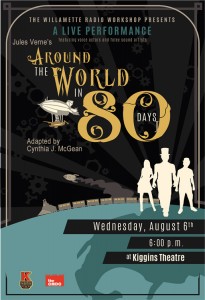 The Willamette Radio Workshop is proud to partner with Washington State University Vancouver's Creative Media and Digital Culture program (WSUV, CMDC) to present a one of a kind event at Vancouver's historic Kiggins Theater, A Steam Punk version of Jules Verne's Around the World in 80 Day's, adapted by Cynthia J. McGean. Wednesday August 6th at 7pm (doors open at 6) WRW presents a new twist on a classic adventure story. The bet to circumnavigate the globe in 80 days still remains, but we have kicked it up a notch as they like to say. We have brought in Phileas Fogg's own "Q" (Aida Lovelace, the Countess Lovelace, the only legitimate heir to Byron and the first computer programer. I'm serious, follow the link.) Dirigibles, submersibles, new stops along the way, romance, buffalo and elephants. That's why they call this one of the greatest adventures of all time.
Plus, we will have live tweets that YOU the audience will vote to decide which route Phileas and Passepartout will take next. We will have projections, a photo booth in the lobby and a fine collection of beer and wine and Vancouver's BEST popcorn. And the Around the City in 8 Days treasure hunt.
Following the show, the amazingly talented students at WSUV CMDC

program will present "Chronicles: stories of the past, present & future". Their work explores transmedial storytelling experiences using the Jules Verne original novel.  The student's generated from Professor Brenda Grell's course, Design and Composition, and Dr. John Barber's course, Digital Storytelling.
WRW has assembled a wonderful cast and crew as always. The cast includes Suzan Zeitlin, John Monteverde, Phil Rudolph, Dino de AElfweald and David Ian.
The Foley crew has David Ian and Dino de AElfweald and a special guest or two.
Original Music by Bennet Bailey.
Sound Design by Marc Rose
Live Sound and Recording by D. Neal Blake and Phillip Bursch.
Projections by Joe Medina.
Special Technology by Jamie Lawson.
Speacial thanks to John Barber, Dene Grigar, Amalia Vacca, Dan Wyatt, the Kiggins Theater, Ollin Productions, Dry Smoke and Whispers and all the Chronicles students.
As usual the show is directed by Sam A. Mowry and he plays Phileas. Check this out, because it is like nothing you've seen or heard before.