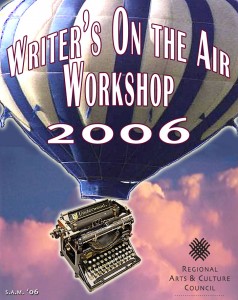 This July, WRW's Writers On-the-Air Workshop (WOW), returns for its third year developing and showcasing new, original works for audio theater by writers from around the country. Funded in part by the Regional Arts and Culture Council, this year's WOW focuses on "Voice and Viewpoint."
WOW participants meet two to three times a week to discuss and revise their scripts through a peer-driven, collaborative process led by WRW dramaturge and published playwright Cynthia McGean. The three-week workshop begins Saturday, July 8, with an introduction for those new to audio theater, and culminates July 29th in recorded readings of the scripts with actors chosen by WRW Director Sam A. Mowry.
Three pieces from WOW will be selected for full production and broadcast. WOW is free and open to those interested in exploring their writing craft through the medium of audio theater. For an application, contact Cynthia McGean at cjmcgean@aol.com.
Past WOW productions include Gold Ogle Award Winner Next Year's Girl, by Heather Breeden and National Audio Theatre Festival Grand Prize Winner Pandora's Box, by Cynthia McGean. WRW is proud to present WOW productions on local radio station KBOO, as well as community radio stations around the country.