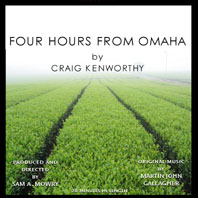 Four Hours from Omaha
by Craig Kenworthy
The Willamette Radio Workshop's production of Four Hours From Omaha by Craig Kenworthy is a play developed by the Writers on the Air Workshop, Cynthia J. McGean Director. We were happy to have our initial broadcast of Stage and Studio on KBOO 90.7 FM April 18th, 2006. Craig Kenworthy is a writer who resides in Montana. His works have been seen and heard in many venues across the country. The script has gone through a couple of reading and re-write sessions to get to today's finished product. We were actually lucky enough to have Craig visit us at WRW's studio for the final reading before we went into the studio. WRW is always happy to work with writers on both adaptaions and original projects, but there is always a special spark when we help usher a new work into the world, especially one as fine as Four Hours From Omaha.
The production was directed by Sam A. Mowry and starred Kate Hawkes, Brian Bartley, Carole Dane, Jane Bennett and Cindy McGean. Original music was composed by Martin John Gallagher. This is the first in a series of new works sponsored in part by the Regional Arts and Culture Council of Oregon. Our special thanks to Dmae Roberts and Stage & Studio for premiering this work.