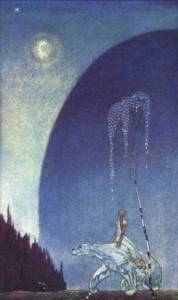 Performance Date: Friday, April 9, 2010Time: 8:00pm – 11:00pm
Location: Splendorporium Art Gallery, 3421 SE 21st Avenue, Portland, OR
Join us for the Julians premier performance on Friday, April 9th at 8:00 p.m. at the amazing Splendorporium Gallery, 3421 …SE 21st Ave!
"East of the Sun West of the Moon" is a night of music making and story telling, combining classic fairy tales with a mash-up of vocal music. We'll combine such tales as "The Fisher King," "The King of Cats," and "The Golden Key" with music by Tormis, Sondheim, Kocsar, Bjork, and Distler.
The Julians are proud to welcome Sam A. Mowry and Alyson Ayn Osborn of the Willamette Radio Workshop for this one night only performance!
Entry is a suggested $10/$8, and is available at the door. Cash only please.
Don't miss this amazing night of performance, the first for the Julians, the fresh PDX female vocal ensemble.