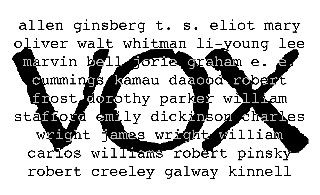 VOX: A Spoken-Word Chorus Presents Poetry Off The Page
Some of Portland's finest actors and singers present an ingenious evening of poetry in performance. VOX, a unique spoken-word chorus, performs poetry as music. Phrased by actor and director Eric Hull, and selected with the guidance of poet and PSU professor Michele Glazer, the poems are arranged much like a musical score. The results express the natural music of the poetry through vocal performance. Download an audio sample at www.voxpdx.com .
Selections include "Do Not Go Gentle Into That Good Night" by Dylan Thomas, the luscious love poem "She Walks In Beauty" by Lord Byron and "Hate Poem" by Julie Sheehan. Ursula Le Guin's "Angel"' is also on the bill. There is also a medley of poems by William Stafford and Kim Stafford.
This is the third VOX performance. The chorus is building on successful productions last spring and winter. VOX audiences experience poetry in performance from a fresh, unforgettable perspective.
7:30 p.m., Fridays, Saturdays, and Sundays, April 16 – 18 and 23 – 25
The Waterbrook Studio
2109 N. Albina #108
Portland, OR 97227
Tickets: $10 – 15 at the door
Info: www.voxpdx.com
Poets: Dylan Thomas, Gertrude Stein, Michele Glazer, William Stafford, Kim Stafford, Maya Angelou, Li-Young Lee, Lord Byron, Cornelius Eady, Omar Khayyam, and more.
Chorus: Gary Brickner-Schulz, Grant Byington, Adrienne Flagg, Theresa Koon, Sam A. Mowry, and Jamie Rea.
Poetry Arrangements: Eric Hull
Poeturge: Michele Glazer
Directions: Take N. Interstate Avenue to N. Tillamook. (Look for the "Poetry" sandwich boards.) Turn west onto the overpass. Follow Tillamook as it curves downhill. Turn right at the next street, Lewis. Turn right at the next street, Loring. You may park in the lot on the right. Enter on the corner of Loring and Albina.
VOX is funded in part by the Regional Arts & Culture Council and Work for Art.