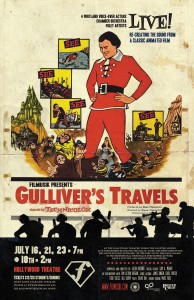 The collaboration between WRW and Filmusik continues in July with the presentation of the 1939 Fleischer brothers animated feature "Gulliver's Travels."  WRW Director Sam A. Mowry will direct the voice acting cast to provide the voices of adventurer Gulliver and the hundreds of tiny citizens of the fairy-tale land of Lilliput.
David Ian will lead a team of foley artists to create live sound effects, while Marc Rose is sound designer.  Filmusik founder Galen Huckins has composed an entirely new score for the film, which will also be performed live.  There will even be opportunities for the audience to be a part of the show — follow the bouncing ball and sing along!
The show promises that you'll never look at cartoons the same way again!
Filmusik: Gulliver's Travels plays at the Hollywood Theatre July 16th, 21st and 23rd at 7:00pm, with a 2:00pm matinee show on July 18th.  Tickets are $12, $10 for students and seniors, and are available at the Filmusik website or at the door (though be cautioned — past Filmusik shows have sold out!)