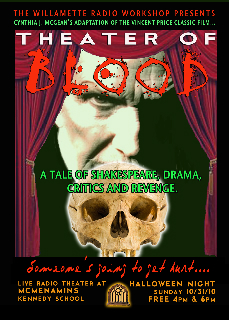 LIVE RADIO and HALLOWEEN TRICK OR TREATING Featuring THEATER OF BLOOD!
Freely and affectionately adapted from the 70's Vincent Price Classic film by Cynthia J. McGean.
as performed live by The Willamette Radio Workshop!
Where you ask? At McMenamins Kennedy School, in the Gymnasium.
A special treat for the kids, avoid the rain and still get candy. Trick or Treating from 4:30 'til 6:30 p.m.; Live Radio shows at 4 p.m. and 6 p.m.
Free!  All ages welcome; kids with adults only.
Bring your kids-in-costume for trick or treating so you enjoy a handcrafted ale, wine or spirit as you wander the halls together! Afterwards (before they get too far into their bags of loot), have dinner at the Courtyard Restaurant, which has a kids' menu — nothing like a grilled cheese sandwich or a corn dog followed up with candycandycandyyeeahhhh!!!!!
After trick-or-treating, check out two free performances of "Theater of Blood" performed by Willamette Radio Workshop. The shows will begin at 4 p.m. and 6 p.m.
The Willamette Radio Workshop is happy to present a live radio adaptation of the stylish 70s Vincent Price horror movie "Theatre of Blood". A show to delight Shakespeare-lovers and horror-fans alike.  The quotes and bodies fly about like autumn leaves. What could be better for Halloween?
Spurned by the Theatre Critics Circle, aging Shakespearean actor Edward Lionheart takes bloody revenge in a series of murders inspired by Shakespeare's greatest plays. The critics variously meet their theatrical ends by stabbing, strangling, having their heart cut out, and being forced to eat a pie with their pet dogs. Will Lionheart finish his greatest work before the police tie together the grisly clues?  Join us this Halloween for the surprising answer.
This murderous tale of full blooded Shakespeare and artistic retribution is freely and fondly adapted by Cynthia J. McGean and directed by Sam A. Mowry. Original music is composed by Marc Rose and Galen Huckins. Live Foley by David Ian and Dino de AElfweald. Live sound by Robert Kowal. The cast includes Chris Porter, Mark Homayoun, Bill Barry, James Dineen, Lindsae Kline, Megan Murphy Ruckman and Sam A. Mowry as Edward Lionheart.
As if that weren't enough, we are also participating in a transcontinental Halloween festival on the air, so to speak. The Transcontinental Terror Train. Details below.
This Halloween, six audio theater companies from around the world are teaming up to present a full evening of original audio horror! "Transcontinental Terror: An Express Train to Audio Horror" will feature six hour-long productions by contemporary audio theater's most exciting, inventive production companies — companies spanning half the globe. The programs will stream online at www.transcontinentalterror.com, beginning at 5:00pm EDT and running until 11:00pm EDT.
The six production companies involved in the project are: The Wireless Theatre Company from London, England; Electric Vicuna Productions from Halifax, Nova Scotia; FinalRune Productions from Portland, Maine; Chatterbox Audio Theater from Memphis, Tennessee; Icebox Radio Theater from International Falls, Minnesota; and The Willamette Radio Workshop from Portland, Oregon.  The numerous accolades earned by this group include Gold Ogle and Mark Time Awards, and features in numerous local and national papers including the Guardian and The Wall Street Journal.  This collaboration marks the first live web-based audio horror marathon, which debuts 6 hours of new material by these artists.
The event is timed to celebrate October, the National Audio Theater Month.  "Since Orson Welles' legendary War of the Worlds broadcast Halloween has held a special place for audio drama," says Sam A. Mowry, director of the Willamette Radio Workshop.  "It's a time of year when people love to hear a good scary story, and no medium better
scares than audio.  You create the images in your mind and who better knows what you are terrified by?"
This year we are producing six original shows, the result of a months-long collaboration among the groups.  Some of the shows will be recorded, using state-of-the-art production methods, field recording, and actors from across the globe. Others, including the Willamette Radio Workshop, will be performed live in front of a live audience with manual sound effects, just as in the Golden Age of Radio Drama. Though terrifying, all of the evening's content will be radio-friendly. Radio stations are encouraged to broadcast the online feed.
For more information on the show itself each participating group, scheduling, and more, visit www.transcontinentalterror.com.