Hello folks, we are very happy to announce that our recording of Willamette Radio Workshop's Radio Christmas Carol will be broadcast on Oregon Public Broadcastings radio stations across all Oregon and Southwest Washington this Thursday evening the 24th (of all the good old days of the year, Christmas eve!) at 9pm on 91.5 fm. And streaming from: http://www.opb.org/radio/listennow/player.php/
For many years, members of the Willamette Radio Workshop have given special performances of "A Christmas Carol" for audiences around the Portland metro area who might not otherwise have had any holiday entertainment.  We took this tradition to the next level with a live performance, open to the public, to benefit the Food Bank. We are very excited to now be able to share it with the whole state. We also ask that if you have the resources, that you continue to support the food banks in your area, all year round.
This "live radio" performance of "A Christmas Carol," was adapted by Cynthia J. McGean from the Charles Dickens story and the Campbell Playhouse version. The show was recorded at First Christian Church in Portland, Oregon in front of a live audience.  While admission was free, we asked for the donation of two cans of non-perishable food per person or an appropriate c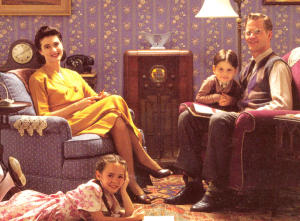 ash donation to the Food Bank.  Envelopes were  available for cash donations.
The cast for this performance included Tim McKennie, James Dineen, Greg Alexander, Alan King, Cynthia McGean, Renee Boutin King, Mary Thomas and Sam A. Mowry. Live music and carols  provided by The Holly Jolly Radio Choir, directed by Bennett Bailey and featuring over twenty singers!
Recorded and Mastered by D. Neil Blake.
Merry Christmas to you all and the happiest of New Years!