The Willamette Radio Workshop, Winners of 9 National Audio Drama Awards, presents:
The Mummy's Bride by Erik James.
Kennedy School – Gymnasium | Saturday, October 31, 2015
1 p.m til 2 p.m. and 3 p.m. til 4 p.m. | Free | All ages welcome .
The Mummy's Bride is a classic horror tale in the spirit of Universal, Hammer and International Pictures Mummy movies. A trio of archaeologists discover fabulous wealth along with a forgotten sarcophagus in the valley of the Nile. There is, of course, a curse, ancient spirits taking over peoples bodies and Kharis- The Mummy who will do anything to protect his beloved Princess Anika-Tera. Listen as the past battles the present. Science battles superstition. And Foley artists choke each other senseless. The Mummy Lives and so does Live Radio!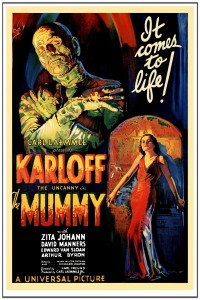 This is a loving homage to one of the great horror figures of all time. Joining our radio classics, Dracula and Frankenstein. Based on "The Jewel of the Seven Stars" by Bram Stoker.
Our team includes: James Dineen, Scott Jamieson, Bruce Miles, Patricia Blem, Robin Woolman, David Ian, Dino de AElfweald, Marc Rose, Phillip Bursch and Sam A. Mowry
Magic Lantern projections by Joe Medina will accompany the program.
Special Appearance by Ringo Zeitgeist with Ukulele songs to call up the spirits and swing in the season.
The perfect way to start off your Halloween festivities. The program is an hour long and suitable for all ages, though it can get intense.
Bring your kids-in-costume for trick or treating while you enjoy a handcrafted ale, wine or spirit
CDs of past performances and the work of other local Audio Dramatists will be available for purchase at the show.