Classic Radio dramas examine Post-Traumatic Stress Disorder and Gun Violence.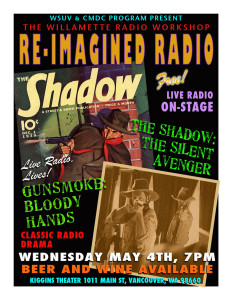 Our final presentation of this years Re-Imagined Radio Project brings two of radios greatest crime fighters to center stage, The Shadow and Matt Dillion in Gunsmoke.
The performance takes place at 7 p.m. May 4 at the Kiggins Theatre in downtown Vancouver, located at 1011 Main St., Vancouver, Washington 98660. Doors open at 6pm.
It is free and open to the public.
Directed by Sam A. Mowry, the dramas are episodes from the radio series "Gunsmoke" and "The Shadow." The performance is part of the Re-Imagined Radio project produced by John Barber, faculty member in Washington State University Vancouver's Creative Media and Digital Culture Program.
"These radio dramas were written and performed long before there was a name for or understanding about PTSD," Barber said, "but the effects were real and provided the basis for great storytelling and critical thinking."
Broadcast for 480 episodes between 1952 and 1961, "Gunsmoke" is one of the longest-running radio series and went on to 20 years on TV as well. The performance features an episode titled "Bloody Hands," in which Marshall Matt Dillion, faced with too much killing and fearing he has lost his edge, quits his job. Dodge becomes an open town and when a murderer comes to town, Matt has some tough choices ahead of him.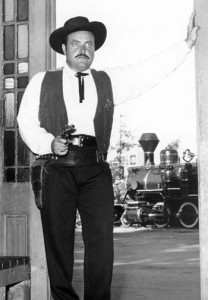 "The Shadow" centers on Lamont Cranston, a young man with a mysterious power to "Cloud mens minds". The episode to be performed, "The Silent Avenger," is from 1938, when Orson Welles voiced the The Shadow. The Shadow confronts a man facing a death sentence who has manipulated his brother, a World War I sniper suffering from PTSD, to kill everyone responsible for his pending execution. The Shadows speech at the shows conclusion will shock you to realize it was written 78 years ago.
The Willamette Radio Workshop creates original studio productions and reimagines historic radio programs in front of live audiences. Winning major awards for their work.
Our cast and crew include James Dineen, Patt Blem, Phil Rudolph, Scott Jamieson, David Ian, Dino de AElfweald and Sam A. Mowry.
Live Foley by David Ian and Dino de AElfweald
Live Music and Sound scape by Martin John Gallagher
Live Sound by Joe Reed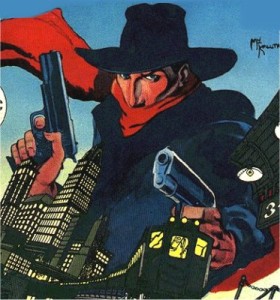 Magic Lantern Show by Joe Medina
Merchandizing by Jamie Lawson
Special Thanks to Marc Rose, Cynthia J. McGean, Washington State University in Vancouver, The Creative Media and Digital Culture program, The Cougs Parents Fund, Dan Wyatt and the staff at the Kiggins Theater.
Producer of this series, John Barber.
And the always remarkable Dene Grigar.
Concessions, beer and wine will be available for purchase. The Kiggins Theatre is located at 1011 Main St., Vancouver, Washington 98660.
About WSU Vancouver
As one of four campuses of the Washington State University system, WSU Vancouver offers big-school resources in a small-school environment. The university provides affordable, high-quality baccalaureate- and graduate-level education to benefit the people and communities it serves. As the only four-year research university in Southwest Washington, WSU Vancouver helps drive economic growth through relationships with local businesses and industries, schools and nonprofit organizations.