20th ANNUAL UFO FESTIVAL
12pm (NOON) Saturday, May 18, 2019
McMENAMINS HOTEL OREGON — McMinnville, OR
Matties Room (on the 2nd floor)
PLEASE NOTE THE NEW STARTING TIME!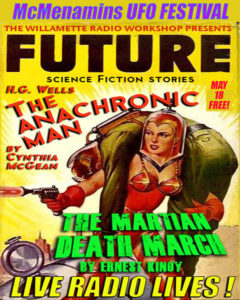 "The Martian Death March" an original radio drama from one of my favorites and a true master of the genre, Ernest Kinoy. This X-Minus One adventure is the story of man's inhumanity to Martians. An allegory of the westward expansion and the mistreatment of the native Americans.  A man who was a boy at the time tells the story of the death march of the Martians in 1997. He tells the tale of how the spider-beings have escaped from the reservations and are making their way home to the mountains lead by an earthman. Perhaps looking at this story through the prism of the future on another planet, we can see our own inhumanity a little clearer right here on Earth. And perhaps learn the lesson we still seem to be forgetting, or ignoring.
We conclude with The Anachronic Man: The Original Dr. Who, by H.G. Wells. This story started out as a precursor to The Time Machine, but our award winning adapter Cindy McGean found another sci-fi masterwork that must have been inspired by this short story. See what you think. The current political climate leads us to re-think how we treat aliens and all people who seem different. Too different for some.  Prejudice leads to violence and intolerance leads to a loss of hope for our present and future selves.
One of my favorite parts of doing old time radio is how these scripts from the past, looking at our future, show how little we have learned from our past mistakes and shows how dangerous we can still be to ourselves. We are happy to share these tales of tomorrow and hope we all start learning from our past to ensure a better present and future. As they say: From the far horizons of the unknown come transcribed tales of new dimensions in time and space. These are stories of the future, adventures in which you'll live in a million could-be years on a thousand maybe worlds.
Hopefully we still have one we can save.
This years cast includes: Chris Porter, Patricia Blem, Todd Tolces, Scott Jamieson, Toni Lima and Sam A. Mowry.
Live sound by Martin John Gallagher
Sound Design by Marc Rose
Live Foley by David Ian and Dino de AElfweald
Dramaturge Cynthia J. McGean
Merchandizing by Jamie Lawson and Joe Medina
Road Manger Christopher Hutchins
Stage Manager Autumn Trapani
Produced and directed by Sam A. Mowry