VANCOUVER, Wash. – Re-Imagined Radio, produced by John Barber of WSU Vancouver's Creative Media and Digital Culture Program,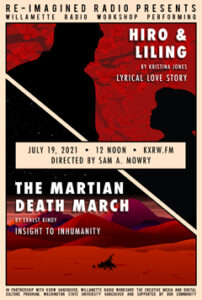 will present two short radio dramas in July. "Hiro & Liling" is an original love story by Portland writer Kristina Jones, and "The Martian Death March" by Ernest Kinoy for X-1, first broadcast in 1951.
The two stories make up an hour-long episode that will air at noon July 19 on two local radio stations: Vancouver's KXRW-FM (99.9 FM) and Portland's KXRY-FM (91.1 FM or 107.1 FM). Rebroadcasts will be offered by Portland's KUIK-AM (1360 AM), Salem's KMWV-FM (98.3 FM), and CKXU (88.3 FM), Lethbridge, Alberta, Canada, which in turn distributes Re-Imagined Radio across Canada. The performance will also be available online via the stations' websites and will be archived at reimaginedradio.net.
The Workshop is excited to rejoin with the Re-Imagined Radio Project for this series of broadcast shows. We look forward to more. exciting radio to come. Martian Death March was recorded in a new platform, Riverside, which allowed all our actors to record with each other from their home studios with live Foley and SFX. We look forward to improving our use of this new technology and keeping our cast, crew and audience as safe as possible. It's a brave new world and we will continue making audio dramas in it. Thanks for your support and patience. Hiro and Liling was recorded at the Willamette Radio Workshop studio, pre-pandemic.
HIRO and LILING
Hiro & Liling is inspired by Japanese folklore, this original love story by Kristina Armetta unfolds as an old man teaches his grandchild the legend of an ancient rock formation. In Armetta's simple, lyrical language the grandfather traces the relationship between a war-hardened Japanese General and a young Chinese girl orphaned by his troops. At once poignant and hopeful, potent and reflective, the piece represents some of the best work to come out of WRW's 2004 Writers On-the-air Workshop.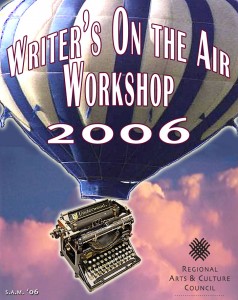 CAST AND CREW
Chris Porter, Laura Faye Smith, Janet Penner, Genevieve Winters, David Loftus, Atticus Welles Mowry and Sam A. Mowry.
Written by Kristina Jones
Original Music by Peter Armetta
Recorded by Robert Kowal
The Writers on the Air Workshop was created and directed by Cynthia McGean
Produced and directed by Sam A. Mowry
X MINUS ONE- THE MARTIAN DEATH MARCH
"The Martian Death March" an original radio drama from one of our favorites and a true master of the genre, Ernest Kinoy. This X-Minus One adventure is the story of man's inhumanity to Martians. An allegory of the westward expansion and the mistreatment of the native Americans.  A man who was a boy at the time tells the story of the death march of the Martians in 1997. He tells the tale of how the spider-beings have escaped from the reservations and are making their way home to the mountains lead by an earthman. Perhaps looking at this story through the prism of the future on another planet, we can see our own inhumanity a little clearer right here on Earth. And perhaps learn the lesson we still seem to be forgetting, or ignoring.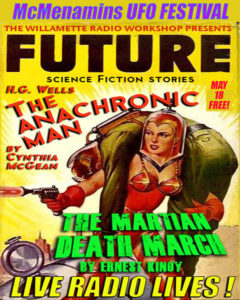 CAST AND CREW
ANNOUNCER: Christopher Hart
NARRATOR: Sam A. Mowry
AL: Karyn O'Bryant
MOM: Patt Blem
JOHN: Scott Jamieson
MARTIAN: Todd Tolces
MINER: David Ian
CAPTAIN: David Ian
SERGEANT: Christopher Hart
SFX and Music: Marc Rose
Engineer and Consultant: Martin John Gallagher
Foley: David Ian and Dino de AElfweald
Cynthia McGean Dramaturg
Produced and directed by Sam A. Mowry