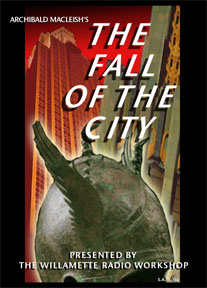 The Willamette Radio Workshop's production of "The Fall of the City" will be featured on the Radio Theater Spotlight show on KBOO, 90.7 FM this Monday, October 11, at 11pm.  WRW Director Sam A. Mowry will be in the KBOO studio, speaking with host Rascho (aka Randall Howington) via Skype about the production.  Rolf Semprebon will engineer the session.
"The Fall of the City," first produced in 1937 by the Columbia Workshop for CBS Radio, is a verse drama by Archibald MacLeish.  A brilliant allegory about the rise of Fascism on the eve of the Second World War, it has a powerful resonance in our own time.  WRW's 2004 production is a winner of the Crystal Communicator Award.
This powerful play was produced again by the Night Kitchen Radio Theater for the opening of WNYC's Jerome L. Greene Performance Space.  Produced and directed by Sarah Montague, this production won a 2009 Gracie Award for Best Drama.  A streaming audio can be found at the New York Festivals website.