Featuring the Works of Edgar Allan Poe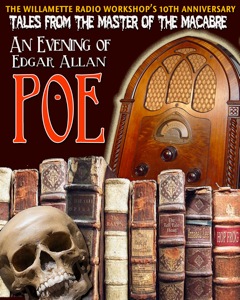 WRW celebrates our 10th Anniversary with "An Evening of Edgar Allan Poe!" The master works of the master of the macabre. Selections include "The Pit and the Pendulum," "The Tell-Tale Heart", "Hop-Frog," "The Fall of the House of Usher," "The Raven" and "Annabel Lee." Classic radio adaptations, a new adaptation by William S. Gregory and the Vox Poetry stylings of Eric Hull. Live music performed by Galen Huckins and the Filmusik All Stars. Event Stylist Kate Dineen. Performed live by The Willamette Radio Workshop! Winners of 9 National Audio Drama Awards.
Performed at the McMenamins Kennedy School!  Live Radio shows at 4 p.m. and 6 p.m. Free Trick or Treating from 4:30 'til 6:30 p.m.; All ages welcome; kids with adults only please.
Bring your kids-in-costume for trick or treating so you enjoy a handcrafted ale, wine or spirit as you wander the halls together! Afterwards (before they get too far into their bags of loot), have dinner at the Courtyard Restaurant, which has a kids' menu — nothing like a grilled cheese sandwich or a corn dog followed up with candycandycandyyeeahhhh!!!!!
After trick-or-treating, check out two free performances of "An Evening of Edgar Allan Poe" performed by Willamette Radio Workshop. The shows will begin at 4 p.m. and 6 p.m. CDs of past performances and the work of other local Audio Dramatists will be available for purchase at the show.
CAST AND CREW FOR THE HALLOWEEN SHOW
Alyson Osborn,James Dineen, Sarah Rea, Bruce Miles and Sam A. Mowry. Sam A. Mowry is the producer and director. Joe Medina is indispensable. Cynthia J. McGean is our Dramaturge. Rob Kowal is Associate Producer of the Workshop. David Ian & Dino de AElfweald- Foley Artists and Designers. Galen Huckins– Musical Director/Composer.
Special thanks to Jamie Lawson and Joe Medina/ Afterhell, Dry Smoke and Whispers, Martin J. Gallagher, Atticus Welles Mowry, Jerrel McQuen, Claudine Hemminway, Tapestry Theater and Judy Straasland, Filmusik, PDX Classical Revolution and all our families and friends who make this possible.
We are also proud to be a part of the Transcontinental Terror: An Express Train to Audio Horror. Our submission this year will be the Mercury Theater on the Air's first program, DRACULA by Bram Stoker, adapted by Orson Welles and John Houseman.
This is the single largest event in the world of audio theater, and the only time each year a group of independent producers unite to create a whopping five hours of original programming. And you can hear it all hear on Halloween night—Monday, October 31st, 2011. In addition to WRW, contributing production companies include: