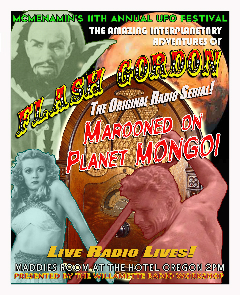 WRW celebrates the 11th annual McMenamins UFO Festival with the classic sci-fi adventure serial, "The Amazing Interplanetary adventures of Flash Gordon."  A special compilation of the first four episodes of the 1935 weekly serial, which we are calling "Marooned on Planet Mongo!" will be presented at 2pm Saturday, May 15 in Mattie's Room at McMenamins Hotel Oregon in McMinnville.  The show is free.
The cast includes Scott Jamieson, Mary Thomas, James Dineen, Mark Homayoun, Carole Dane, Matthew Richards and Sam A. Mowry.
Originally aired in the spring and summer of 1935, "The Amazing Interplanetary Adventures of Flash Gordon" was a very faithful adaptation of the Alex Raymond comic strip, starring Gale Gordon as the heroic Flash, Maurice Franklin as brilliant scientist Dr. Zarkov, and Bruno Wick as evil overlord Ming the Merciless.
WRW has presented individual episodes of "Flash Gordon" at past UFO Festivals, most recently in 2007, but this is the first time the "Brave Earth man" has been at the top of the bill!
For more information about the UFO Festival, check out the McMenamins site.  There's no charge to attend "Marooned on Planet Mongo!" but if you'd like to support WRW, we will have CDs of other WRW shows available for sale before and after.