Willamette Radio Workshop presents: Dracula, A Live Radio Drama. 4 performances at 3 venues. The Kiggins Theater in Vancouver on Thursday October 27th at 7pm for $5, at the Venetian Theater in Hillsboro on Sunday October 30th at 7pm  for $10  and Halloween night at the Kennedy School Movie Theater at 4pm and 5:30pm. Free and open to all ages.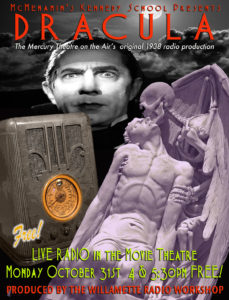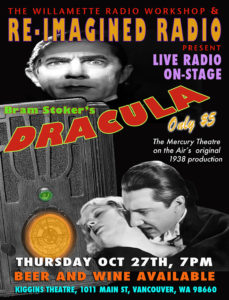 KIGGINS– 1011 Main St, Vancouver, WA 98660
VENETIAN– 253 E Main St, Hillsboro, OR 97123
KENNEDY SCHOOL–  5736 NE 33rd Ave, Portland, OR 97211
WRW brings the ultimate story of the supernatural to the McMenamins Empire. First published in 1897, the novel Dracula by Irish author Bram Stoker has never been out of print. It has been reissued in over 300 editions, including dozens in foreign languages. The figure of Count Dracula has dominated twentieth-century culture, from movies to cereal boxes to radio.
This is the original radio adaptation by Orson Welles and John Houseman. It was the first broadcast of the Mercury Theater on the Air, the greatest of all radio companies and the inspiration for forming the Willamette Radio Workshop.
"Welles got the rights to it at the last minute — he was going to launch the season with 'Treasure Island,'" Mowry says. "He and John Houseman sat in an all-night cafe cutting up seven copies of the book and gluing pages together to make the script. They argued around the clock for 36 hours, eating and drinking the whole time, then dropped off the pages at the typing pool and left Welles' secretary to pay the bill."
Bram Stoker, wrote the story in 1897 and made vampire a household word. Vampires continue to enthrall 100 years later, immortalized in movies and television.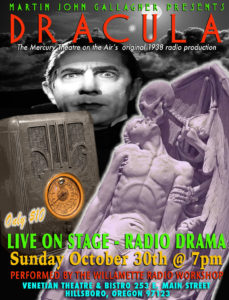 "We accept the idea of vampires today, but when the story was written, nobody knew what they were. Here's this great story: Basically, a real estate salesman goes to close a deal in Eastern Europe — and instead this evil is loosed on the world!"
Welles' script runs 55 minutes and the adaptation rushes along, with foley sound effects creating the atmosphere of doom.
Halloween horror stories are perfect for radio drama, It's the power of suggestion. Everybody carries their own private hell with them.
Our Cast includes James Dineen, Patricia Blem, Scott Jamieson, Carole Dane, Atticus Welles Mowry and Sam A. Mowry.  Live Foley by David Ian and Dino Deaelfweald. Original Music by Martin John Gallagher and Sound Design by Gallagher and Mowry. Magic Lantern Imagery by Joe Medina. Webmaster and Merchandizing by Jamie Lawson. Live Sound by D. Neil Blake. Live Sound at the Kiggins and Venetian by Joe Reed.
Halloween at McMenamins Kennedy School.
Monday October 31st 4 & 5:30pm  | Free admission | All ages welcome
Come celebrate the spookiest of holidays with us! Kids in costumes are invited for Trick-or-Treating! Bring those pumpkin buckets for gathering treats from 4:30 p.m. 'til 6:30 p.m. in the hallways.
Live music by:
Freak Mountain Ramblers
Plus:
Willamette Radio Workshop presents: Dracula in the Movie Theater! at 4pm and 5:30pm.
and Trick-or-Treating
Kennedy School | Monday, October 31, 2016
Live music 7 p.m. 'til 10 p.m.
DRACULA AT THE KIGGINS Presented by Re-Imagined Radio and John and Dene Barber
Thursday October 27th at 7pm, doors open at 6:30. $5 tickets.
DRACULA AT THE VENETIAN Presented by Martin John Gallagher
Sunday October 30th @ 7pm Tickets $10