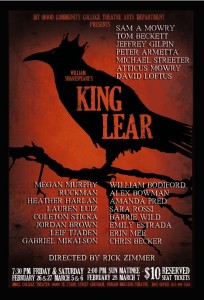 Several members of the WRW "family" are appearing in Mt. Hood Community College's new production of King Lear!  Here are the particulars:
Mt Hood Community College
College Theater
26000 SE Stark
Gresham, OR
Friday and Saturday 7:30 PM February 26, 27 and March 5, 6
Sunday 2:00 PM February 28 and March 7.
Buy tickets:Â https://www.vendini.com/ticket-software.html?t=tix&e=9863337f37c2772b03e1abf14d1fe167&rmid=fdf732ea38461a68485df246328803bf
Cast Members: Sam A. Mowry (King Lear); Megan Murphy (Goneril); Heather Harlan (Regan); Lauren Luiz; Tom Beckett (Kent); David T. Loftus (Albany); Atticus Mowry (Cornwall); Michael Streeter (Gloucester); Jeffrey Gilpin (Edgar); Coleton Sticka (Edmund); Peter Armetta (Fool); William Bodiford, Alex Bowman, Amanda Pred, Sara Rossi, Leif Tjaden, Barrie Wild (Ensemble)
Please note that for a small charge, Chartwells Catering will be providing a small plates buffet with wine, beer and non-alcoholic beverages 45 minutes prior to curtain and at intermission for each of the performances. Come early and mingle in the comfort of our beautiful College Theatre Lobby while enjoying tasty treats and cold or warm beverage before curtain.
King Lear, old and tired, divides his kingdom among his daughters, giving great importance to their protestations of love for him. When Cordelia, youngest and most honest, refuses to idly flatter the old man in return for favor, he banishes her and turns for support to his remaining daughters. But Goneril and Regan have no love for him and instead plot to take all his power from him. In a parallel, Lear's loyal courtier Gloucester favors his illegitimate son Edmund after being told lies about his faithful son Edgar. Madness and tragedy befall both ill-starred fathers.