The Fall of the City and R.U.R.
Two classic radio dramas combined into one production!
Wednesday, 7 October 2015
Kiggins Theatre — Vancouver, Washington
Doors open at 6:00 PM, show starts at 7:00 PM
Wine, beer, and concessions available
ADMISSION is FREE. Thanks to support from WSUV, CMDC and Re-Imagined Radio
The program will last one hour.
The Fall of the City, written by Pulitzer Prize-winning poet Archibald MacLeish (1892-1982), was the first American verse play for radio. Arguably, no program did more to reveal the artistic potential of radio broadcasting in terms of both stylistic innovation and social power. First performed by The Columbia Workshop, 11 April 1937,  The plot centers on a radio announcer reporting from the plaza of a nameless city, where a crowd awaits the appearance of a woman dead three days. She brings a prophecy of a brutal conqueror who will make this city of masterless men, take a master. The people of the city struggle to decide between security and freedom with fear driving the argument. MacLeish noted the surrender of Austria to Nazi Germany as the inspiration for his play.  The play, he said, was not about the conqueror, but rather about the way people chose their freedom. In this regard, The Fall of the City raises interesting questions about sustaining the burden of freedom that we seem to be facing today as well. This is our director Sam A. Mowry's favorite radio play and we are very excited about bring it to a live audience. Marc Rose's brilliant sound design both keeps the timeless quality of the original and adds an echo of the future to the program.
Our amazing cast includes Sam A. Mowry, Curtis Hanson, Linda Goertz, William S. Gregory, Holly Spenser, Tim McKennie, David Loftus, David Ian, Scott Jamieson and Dino de AElfweald. Original sound design by Marc Rose and Projections by Joe Medina
Our second show of the evening is  R.U.R. (Rossum's Universal Robots), written as a stage play by Czechoslovakian writer Karel Capek (1890-1938), premiered in 1921 at the National Theater, in Prague and was transformed into a radio drama by The Columbia Workshop in 1937. Grown in vats, Rossum's Universal Robots are designed to work as slaves for humans and, so, have no feelings. The plant manager's wife, pities the robots and persuades the head R.U.R. scientist,  to give them feelings. As you can imagine, with feelings comes resentment of their subservience to humans and revolt ensues. Issues of what makes a human and the rights of living creatures drives this pl,ay, which is also far ahead of it's time.
This is the first appearance of the term "robot" and to this day leads audiences to discussions regarding the relationship between humans and robots, androids, cyborgs, and lately, artificial intelligence and how we will handle the sciences that sometimes seem far beyond our understanding and control.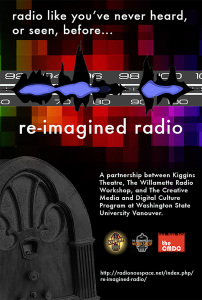 Re-Imagined Radio is  Start with a 1936 theatre. Re-enact historic radio dramas complete with voice actors and Foley sound artists. Garnish with digital SFX, music, and visual backdrops. Overlay student digital interpretations of the base narrative. Invite a live audience to watch, eat popcorn, and participate via social media. The result: Re-Imagined Radio—storytelling as never before heard, or seen. You can find out more about Radio Re-Imagined and radio history by following the link.