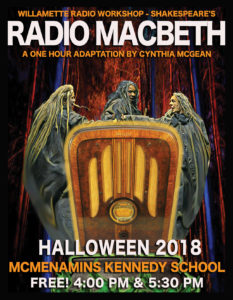 Tonight on Sound/Unsound with Rolph Semperbon our Halloween production of RADIO MACBETH airs at 12:30 am on KBOO 90.7 FM.
If you missed it at Halloween, now i the perfect time to catch it. It will be archived on KBOO's website if you can't stay up that late. I'll be, listening, but that's me. It will be streaming HERE.
Here are the details of the production, we are very excited to be on the air. Thank you Rolph and Ken.
The Willamette Radio Workshop presents a One Hour version of Shakespeare's creepiest tale of witches, murder, ambition and curses, RADIO MACBETH.
RADIO MACBETH is adapted from Shakespeare by Cynthia J. McGean and stars Patricia Blem as Lady Macbeth, Chris Porter, Tom Beckett, James Dineen, Bruce Miles, Karyn O'Bryant and Sam A. Mowry as Macbeth.
Original Sound Design by Marc Rose
Live Foley by David Ian and Dino de AElfweald
Drums by James Dineen
Live Sound by Martin John Gallagher
Production Manager, Atticus Welles Mowry
Magic Lantern Show by Joe Medina
Swag by Jamie Lawson of Ollin Productions