LAUGH YOUR DIAL OFF, COMEDY FROM THE GOLDEN AGE OF RADIO.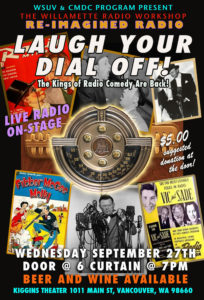 WHEN: September 27th at 7pm curtain 6pm door
WHERE: Kiggins Theater 1011 Main St, Vancouver, WA 98660
HOW MUCH:  $5 suggested donation for future ReImagined Radio Projects.
LAUGH YOUR DIAL OFF is a collection of the best comedy shows and acts from the Golden Age of radio. Jack Benny, Fred Allen and Allen's Alley, Fibber McGee and Molly, Abbot and Costello, Charlie McCarthy and Edgar Bergen with W.C. Fields. Plus previously unreleased Vic and Sade episodes, heard here for the first time. Plus commercials of the Day, so true and yet so funny. You can't make this stuff up.
Radio was the perfect medium to bring the tradition of Vaudeville to the average American home. The quick talking word play and snappy comebacks merged with the quiet family situational comedies. The fresh open takes on the same family frustrations and foibles we face today make the works of these comic geniuses as funny today as they where in the Golden Age.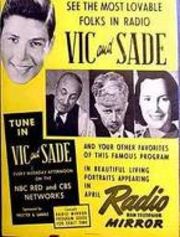 The Willamette Radio workshop operates under the direction of Sam A. Mowry, the cast for this show includes fan favorites Todd Tolces, David Meyers, Erik James, Patt Blem, Judy Straalsund, introducing Jacin Harter and good ol' Sam A. Mowry.
Live Foley sound effects and Fibbers Famous closet by David Ian and Dino de AElfweald.
Magic Lantern Show by Joe Medina
Live Sound Design by Martin John Gallagher.
Atticus Welles Mowry is our production manager.
Transcription services, Swag Management and Web Mastery by Jamie Lawson
This show is appropriate for all ages.