Tapestry Theatre joins in presenting the Willamette Radio Workshop's performance of the original, A Radio Christmas Carol as heard on OPB as a benefit for the Oregon Food Bank.  The show has been a Christmas tradition for the past 7 years at the First Christian Church, The Kiggins Theater in Vancouver and this year the show will be at Tabor Space in the Copeland Commons, a beautiful space and the perfect fit for our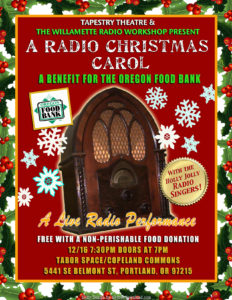 favorite ghost story.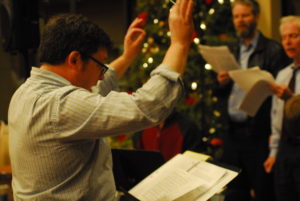 Doors open at 7pm the show starts at 7:30.
Admission is FREE with a non-perishable food donation for the Oregon Food Bank Food Bank.  Cash donations will also be accepted.
Cookies and Hot Chocolate will be provided free of charge to set the mood.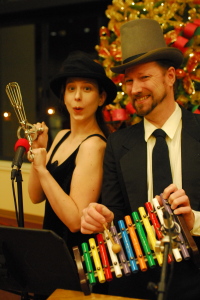 The Willamette Radio Workshop presents a "live radio style" performance of Charles Dickens' Christmas Carol, adapted by Cynthia McGean from the source and the Campbell Playhouse versions.  The classic Christmas story of Scrooge and Tiny Tim finds it's natural home in the radio medium, the theater of the mind. A ghost story told to remind mankind of the perils of greed and isolation at a time of the year when our community needs more help than ever. This years cast includes Tom Beckett as Scrooge, Cynthia McGean, Angela McKennie, Judy Straalsund , Chris Porter, Tim McKennie and Sam A. Mowry. Music provided by The Holly Jolly Radio Singers under the direction of Bennett Bailey.  Plus in the tradition of the Golden Age of Radio, live Foley by David Ian and Dino de AElfweald. The show is an hour in length and suitable for all ages.
The award winning Willamette Radio Workshop wants to help preserve the history of Radio Theatre and to this end our work includes re-creations or re-imaginings of Classic Radio programs like The Campbell Playhouses Christmas Carol with Orson Welles and Lionel Barrymore. We also just love to put on a great show and that's what we've done here.